Latest Coronavirus Impacts: 44 People Have Died From COVID-19 in San Diego County
The coronavirus pandemic reached San Diego County in March 2020. Each day, local health officials give us updates on the spread of the novel coronavirus in our region. We will bring you the latest news here, every day. You can count on us.
COVID-19 Patients in San Diego County
San Diego County Health and Human Services Agency (HHSA) officials confirmed there have been

1,693 total positive COVID-19 cases

since Feb. 14, 2020. The county on April 3 reported its largest single-day jump with 146 new positive cases but warned that the spike is not telling of the overall trend.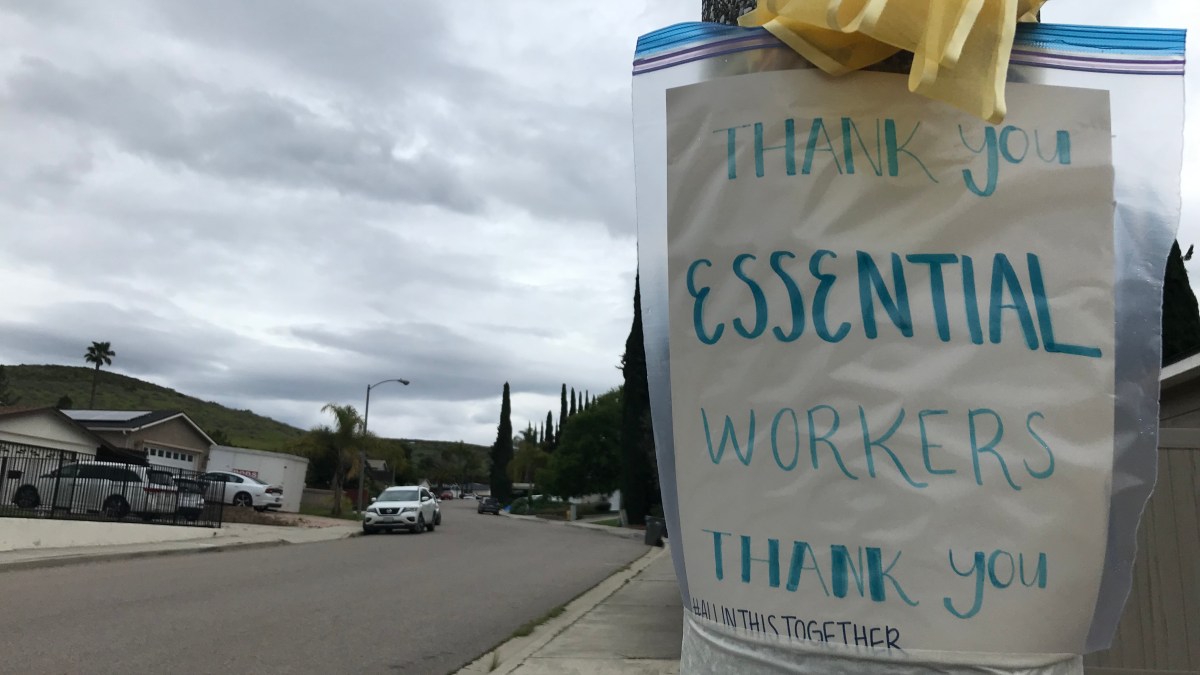 The number of people actually infected with the disease is likely much higher because not everyone needs to be tested, including the close contacts of positive patients that are often presumed to have the disease. Eric McDonald, Medical Director with the County Epidemiology Immunization Branch, estimated the actual number of people with COVID-19 is around 10 times the reported total.
This data is not a full representation of cases. There has been very limited testing so far. Therefore, the actual number of cases per zip code could vary greatly. Officials with the County Health and Human Services Agency say the number of people infected with COVID-19 in San Diego is around 10 times the reported total.
Other Data:

Is San Diego County "flattening the curve?"; COVID-19 case totals by age and gender; Map of case totals by city of residence; Case totals by race/ethnicity; Tests reported by day; Statistics regarding hospitalized patients; Statistics regarding deceased patients.
The county's total includes several San Diego-based military service members who have tested positive. Because the Department of Defense has and conducts its own tests, there may be an abnormal number of cases among the military. County health officials again warn this is why following the day-to-day numbers can only tell so much about San Diego's coronavirus trends.
It has not been confirmed whether all the following cases reported directly to NBC 7 have been included in the county's case count.
Coronavirus Pandemic: April Updates
Four more people have died due to COVID-19 in San Diego County, bringing the total number of deaths to 44. County health officials said all had underlying medical conditions.
There were 65 new cases reported Friday for a total of 1,693.
County health officials reported Friday 19 outbreaks in congregant facilities which include skilled nursing facilities and assisted living centers. This includes 180 positive COVID-19 cases and 22 deaths. They explained that half of the total deaths reported in San Diego County have been in congregant facilities.
Four more people have died due to COVID-19 in San Diego County, bringing the total number of deaths in our region relating to the disease to 40. The youngest person to die from the new coronavirus was three months old; the oldest was 100.
There were nearly 100 new positive cases reported Thursday for a total of 1,628.
Of the testing that has been reported, 93% has been negative, Supervisor Nathan Fletcher said. Nearly 22,100 tests have been reported to the county since data collecting began.
The county also amended its public health order again to require employees in the bank and transportation industries to wear face coverings. This includes ride-share drivers. Employees of these segments have until Monday at midnight to comply.
Officials also highlighted a "drive-thru" emergency food and toilet paper distribution event for low-income families and seniors in Chula Vista, which will take place on Friday.
County health officials said there have been 1,530 total cases and 36 deaths in San Diego County from 21,178 reported tests.
New demographic data about the COVID-19 deaths was also released. Of the 36 reported deaths, two were ages 20-29, four were ages 50-59, three were ages 60-69, nine were ages 70-79, and 18 were age 80 or older. Also of the 36 deaths, 14 were women and 22 were men.
County health officials also amended the Public Health Order to prohibit non-essential gatherings of any size. Previously, gatherings of 10 or more people were not allowed.
A Port of San Diego Harbor Police officer has tested positive for COVID-19, the port said. The individual has not worked since March 20 and began feeling sick after that day. The port said it determined the officer has not been in contact with any other Port employees or Port facilities since that time.
A medical treatment facility crewmember on the San Diego-based USNS Mercy has tested positive for COVID-19. The individual is isolated on board and will soon be transferred off the ship, the Navy said.
County health officials said there have been 1,454 total cases and 31 deaths in San Diego County. Dr. Wilma Wooten said the increased number of deaths should not be cause for alarm because reported deaths typically lag behind reported cases.
San Diego County public health officials will begin reporting the breakdown of COVID-19 cases among races, officials said, noting that among the now-1,404 confirmed cases, the racial breakdown tracked closely with county demographics.
No new deaths were reported Monday but County Epidemiologist Dr. Eric McDonald noted that death reports often lag because of a variety of reporting factors.
An employee who works at the county's Emergency Operations Center has tested positive for COVID-19, according to a letter sent to employees.
The Metropolitan Transit System said that due to a decrease in ridership, bus routes and a limited amount of trolley service would need to reduce frequency. The changes will go into effect on April 13. The transit agency also confirmed their first COVID-19 case among their bus operators.
County Supervisor Nathan Fletcher clarified an amendment to the public health order regarding facial coverings. Any business has the right to refuse service to a patron who is not utilizing a face covering, although the county has not deemed face coverings mandatory for citizens.
Fletcher also said at least 10,000 San Diegans have already taken on a new "Stay at Home" pledge that encourages staying inside and wearing masks if leaving the house for essential duties, like grocery shopping or doctor visits. To take the pledge.
On the national level, Transportation Security Administration announced airline passengers will be allowed to wear cloth face coverings during the screening process. Passengers will have to adjust their masks so an officer can confirm their identity, however.
County health officials said there have been 1,326 total cases and 19 deaths in San Diego County from 17,663 reported COVID-19 tests. The 19th individual who died was a woman in her late 90s.
A pregnant woman tested positive for the coronavirus and was admitted to a Kaiser Permanente hospital to fight for her life and the life of her unborn child.
In the North County, the county announced an upcoming 250-bed federal medical station at Palomar Medical Center in Escondido. The facility will operate as a "hospital within a hospital" to increase the bed capacity in the region as it fights against the coronavirus pandemic.
Also, County Supervisor Greg Cox said sheriff's deputies will begin cracking down on people who violate the "shelter in place" order by congregating in large groups. Over the weekend, he said deputies issued 25 citations to violators.
There have been 1,209 total COVID-19 cases and 18 deaths in San Diego County, county leaders said. The 18th individual who died was a man in his early 70s, Wooten said.
As families stay at home together during the coronavirus pandemic, the San Diego District Attorney said "home is not safe for everyone" because of domestic violence.
The County of San Diego reached a grim milestone on Friday as positive cases surpassed the 1,000 mark, and the number of deaths from the disease reached 17.
"While expected, this moment should serve to reinforce to us all the difficult road ahead, the seriousness of the challenge we face but -- most importantly -- should serve as a call to action," Supervisor Nathan Fletcher said.
A man in his late 70s died from complications of COVID-19, becoming the 17th person to die in the county from the disease caused by the novel coronavirus. There were 1,112 positive cases county-wide from 966 the day before, marking the largest 1-day jump in cases.
The county also had a positive milestone to note: About 1.4 million pieces of personal protective equipment have been secured and distributed to local hospitals for medical staff.
Meanwhile, the San Diego County Sheriff's Department reported its first COVID-19 cases among its department; four SDSO employees and an inmate were infected, though the department does not believe the employees were infected by the inmate.
Customs and Border Patrol said cross-border foot traffic will be redirected through the PedEast facility so the PedWest facility can be closed down. The move was made, according to CBP, due to a 70 percent reduction in traffic through the San Ysidro Port of Entry, the busiest land border crossing in the United States.
County health officials amended a public health order to include guidelines for facial mask usage as cases in the county rose to 966. There has been one additional death, a 98-year-old woman, bringing the county's total to 16.
Effective April 4, employees of essential businesses who come in regular contact with the public (retail stores, pharmacies, gas stations, etc.) are required to wear facial coverings. Additionally, open businesses must post sanitation/social distance protocols publicly by April 7.
Details of the Public Health Order can be found here.
A TSA agent who does not screen passengers at San Diego International Airport tested positive for COVID-19, officials confirmed. It was the 2nd case reported among TSA agents at the airport this week.
There have been 849 total cases and five more deaths related to COVID-19 in San Diego County, leaders said as they urged the public to stage "aggressive action" during what will be a critical month for the region.
The additional deaths brought the county's total to 15. Leaders expected the number to rise but said San Diegans' "actions will save lives."
County health officials said a 90-year-old female, an 83-year-old male, a 74-year-old male, a 73-year-old male, and a 71-year-old male died of COVID-19.
"We absolutely and unequivocally believe that the month of April is the month that will determine our trajectory as a region," Supervisor Nathan Fletcher said. "We believe this is the month where we find out if we end up like Italy or New York or if we find ourselves through a better pathway and a better direction."
Dr. Yphantides confirmed an additional outbreak at a skilled nursing facility in El Cajon -- one person tested positive for COVID-19 and three people are being investigated.
To look back at what happened in March 2020 in San Diego County during the coronavirus pandemic.